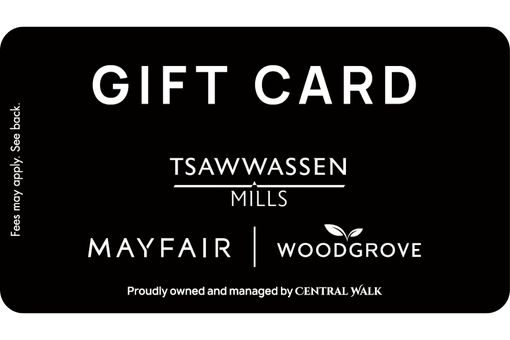 送赠可选择的礼物
购物、 用餐、 娱乐
The Tsawwassen Mills, Mayfair and Woodgrove combined gift card makes gift giving easy. Redeemable at most shopping, dining & entertainment destinations at Tsawwassen Mills, Mayfair and Woodgrove Centre. Gift cards can hold anywhere from $25 to $500 – the amount you want to give is up to you.
礼品卡受以下条款和条件约束:
​This Card is issued by Peoples Trust Company. Card funds are not insured by the Canada Deposit insurance Corporation (CDIC) or any government deposit insurer or agency.
*When available, the Tsawwassen Mills gift cards are ONLY available for purchase at Guest Services in the shopping centre.  Please be aware of purchasing elsewhere, online or otherwise, that could be fraudulent.  Always beware of deceptive practices.