Date
Oct 29 2022
Expired!
Halloween Live Costume Contest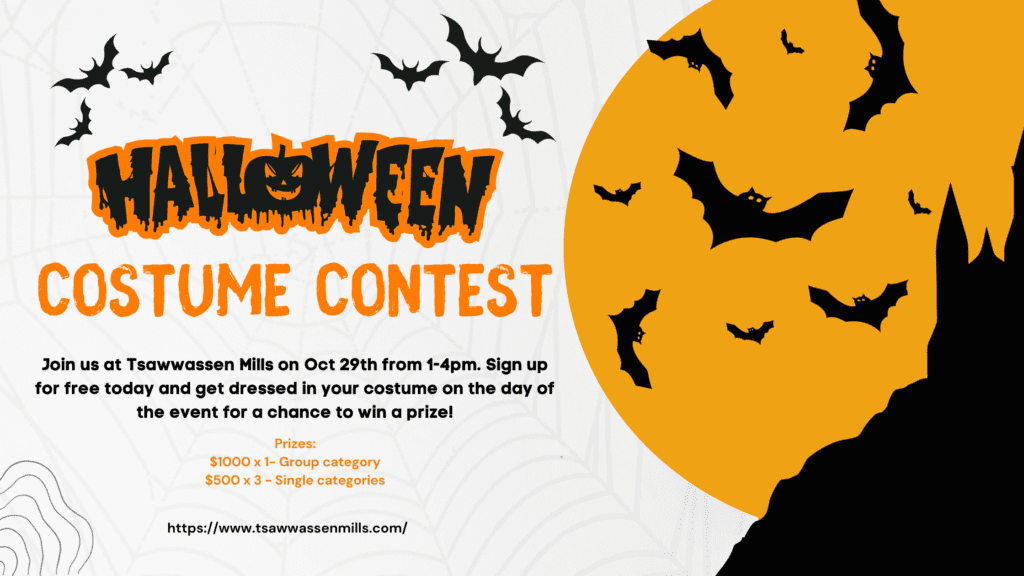 It's Tsawwassen Mills Halloween Live Costume Contest
Saturday, October 29 from 1 pm to 4 pm.
Tsawwassen Mills is giving away $2,500 in prizes to the best Halloween costume!
Join us for the costume contest by registering in advance on Eventbrite or by visiting Guest Services.

PRE-REGISTRATION DATES: Monday, October 17 @ 10 am UNTIL Friday, October 28 @ 12 pm (PST). LIMITED SPACES AVAILABLE.
PARENTAL CONSENT: Required for all registrees under 12 years of age.
CATEGORIES:  Kids (0 – 12 years) | Teens (13 – 18 years) | Adults (18 years + ) | Group (2+ persons).
ELIGIBILITY & JUDGING: Participants will be judged on a scale from 1-10 on effort, creativity, presentation, and execution.  Judging panel shall determine winner eligibility in its sole and absolute discretion. All decisions made by the judges are final.
PRIZES:
Group Prize: $1000 Tsawwassen Mills Gift Card
Adults Prize: $500 Tsawwassen Mills Gift Card
Teens Prize: $500 Tsawwassen Mills Gift Card
Kids Prize: $500 Tsawwassen Mills Gift Card
WINNER ANNOUNCEMENT: Winners will be announced during the event.
PHOTO CONSENT: All participants must sign and complete a photo consent form on contest day (October 29, 2022). Individuals 18 years or younger, must be accompanied by a parent or legal guardian to sign the photo consent form.
FULL CONTEST RULES & REGULATIONS: For complete description, please read HERE.
Happy Halloween!